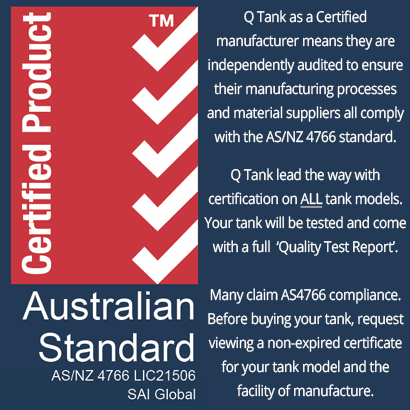 There are many benefits that QTank provide:
Manufactured locally in Brisbane out of QTank's state-of-the-art rotary moulding facility.
ALL tanks are independently certified to Australian Standards (AU/NZS 4766).
Each and every tank is fully tested and comes with a full 'Quality Test Report'.
Made from food-grade poly certified to AS4020 and AS2070 – 100% safe for drinking!
Made from UV-stablised polyethylene – longer life in Australia's sunny weather!
Constructed as one-piece with self-supporting lid – no centre pole wrecking your tank.
Delivered as one solid piece – tank top isn't cut ensuring maximum structural integrity.
Upfront 10 Year "water tight" repair or replace warranty at no cost to yourself (no pro-rata warranty!).