Water tanks are found in a range of colours today thanks to manufacturers who provide a selection of COLORBOND® colours. Tank Shop are proud to offer a huge range of colours from two trusted tank brands: Kingspan who build durable steel tanks, and QTank who set the benchmark in poly tank standards.
QTank Poly Tank Colours
Find the perfect colour match for your poly tank with QTank's selection of 24 modern COLORBOND colours.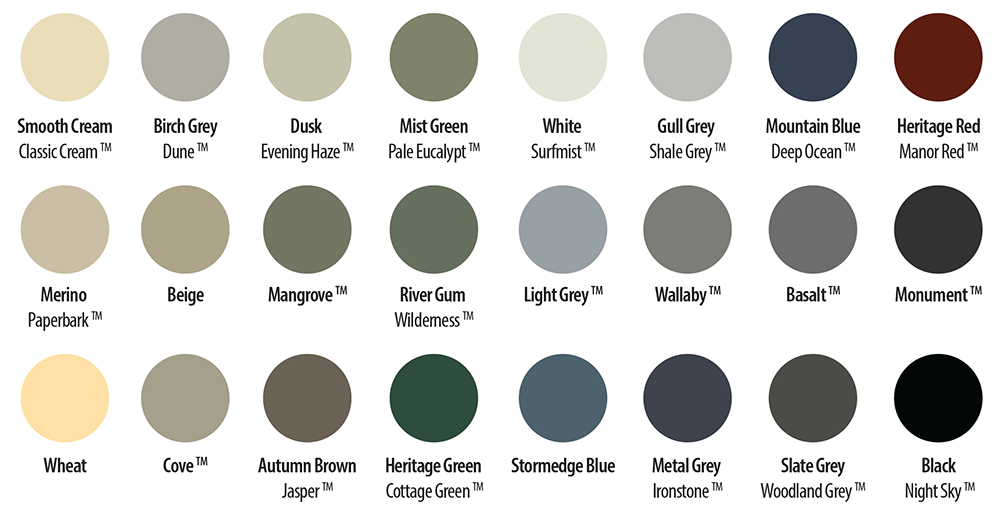 Kingspan Steel Tank Colours
Kingspan's AQUAPLATE Steel Tanks come in 23 Modern COLORBOND colours to match to your house, shed, gutters, walls or gardens. Download Kingspan's Colour Chart for your particular state:
QLD Colour Chart | NSW Colour Chart | VIC Colour Chart
What are Base Colours and Painted Colours?
Base colours are the colours that the Aquaplate (colorbond) steel sheets are purchased into the factory as. Kingspan also offers a selection of Painted Colours, which provided a larger selection of colours only they are professionally painted onto your tank at the tank facility.