The Maelstrom (RHML01) by Blue Mountain Co, also known as Rain Harvesting, is an innovative pre-tank rainwater filter that combines super-fine filtration and super-high water catchment efficiency to give you cleaner rainwater and more of it.
Features and Benefits
Cleaner water harvested – Maelstrom ultra-fine secondary filter removes particles down to 180 microns – 5 times finer than standard rain heads, tank screens and pre-tank filters. This gives you cleaner, better quality water and lowers the volume of sediment putting pressure on your tank pumps and post-tank filters
Harvests high-flowing, fast water – Maelstrom eliminates the problem of water splashing off your tank inlet screen, especially at high flow rates. Its phenomenal water catchment efficiency of 36,000 litres per hour at 96% efficiency (which equates to 10 litres per second) gives you more water, faster, so you can take full advantage of every raindrop.
Efficient rainwater harvesting – Efficiently filtering multiple lines at a single point is a simple way to keep tanks filled to the max.
How the Maelstrom Rainwater Filter Works
Maelstrom cleans rainwater through three-stages of filtration:
The Primary Filter features a 2mm aperture to filter out leaves and large debris.
The Secondary Filter features a 180 micron fine filter sleave that stops the finer particles.
The final 0.955mm Mosquito Proof Screen screen prevents mosquitoes from entering the tank.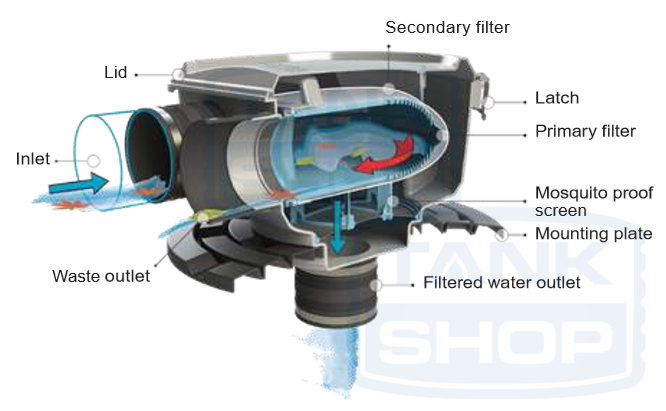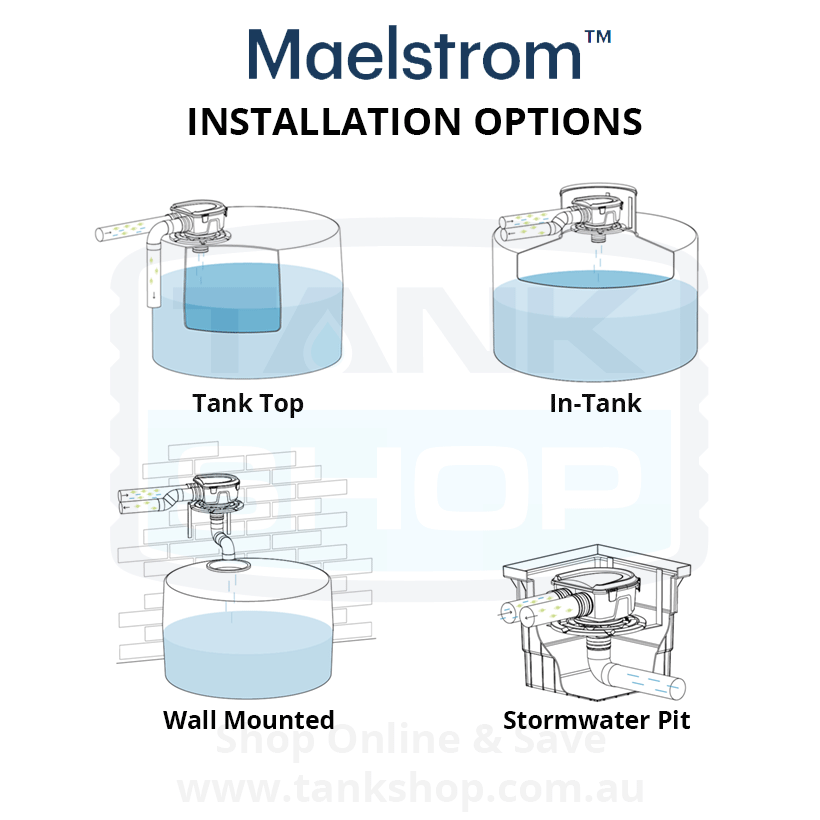 Maelstrom Installation Options
Maelstrom is easy to install and low maintenance.
In can be installed on new or old rainwater systems – either on top of the rainwater tank, in-tank, wall mounted or in an underground stormwater pit.
Maelstrom is versitile and suitable for all kinds of properties:
residential
commercial
remote areas and farms
schools/universities
sustainable homes/green buildings
transport hubs.
Specifications
Size: 506mm wide x 5333mm depth x 392mm high (includes mounting plate and bottom outlet, refer to diagram below for details)
Primary Filter: 2mm (0.08") Aperture, Polypropylene
Secondary Filter: 0.18mm (180μm) Aperture, Nylon
Mosquito Proof Screen: 0.955mm (0.04") Aperture, SS316
Inlet & Outlet Pipe Size: DN100 (110mm OD) / 4" OD
Coupling: Flexible, EPDM
Body & Base Plate: ABS, Polypropylene
Maelstrom Installation & Specification Guide
Download the guide for full details including tools and materials for installation, installation options, overflow configuration options, detailed dimensions and specifications, and maintenance instructions.
Fast Shipping Australia-Wide!
We ship Australia-wide from Brisbane, Queensland via StarTrack.
Your order will be dispatched within 24-48 hours of payment receipt. 
Delivery time varies based on your distance from Brisbane. Below are our average transit times based on orders to date:

Brisbane & Sydney - 1 day
Melbourne - 3 days
Adelaide - 4 days
Perth/Darwin - 7 days
Rural and remote areas - 10 days
To get an estimate for your postcode use StarTrack's Transit Time Calculator.