What is the Australian Standard (AS/NZS 4766)?
This standard is more fully titled AS/NZS 4766 Polyethylene storage tanks for water and chemicals. It specifies requirements for the design and manufacture of polyethylene storage tanks that are rotationally moulded in one-piece seamless construction, for non-buried, vertical installation, and capable of containing water, liquids for food and beverage manufacture and chemical solutions at atmospheric pressure.
Australian standards are not legally enforced standards, but rather simply recommendations put together by Standards Australia. Compliance with particular Australian standards are voluntary unless the product is regulated by Government and specified in law.
Standards certification provides some assurance that the product or service you are buying is safe, reliable and meets quality industry standards.
False Claims of Australian Standards
Many water tank brands claim to comply with the Australian Standard, however such claims are meaningless unless independently certified by an approved certifying body. So before ordering your water tank, request to see the manufacturer's certificate of compliance. It should contain:
the certifying organisation
tank model/s certified specifically named
the location of the facility certified
date of issue and when the certification expires.
You can view QTank's AS/NZ 4766 Certificate here. You should also be aware:
Some manufacturers skimp on cost and only have one or two tank models certified – ensure your particular tank model is certified.
Some manufacturers claim certification based upon one operating location – ensure the facility making your tank is certified.
Some manufacturers claim certification when it is no longer current – ensure the expiration date on their certificate hasn't expired.
How to Check Your Tank is AS/NZS 4766 Compliant?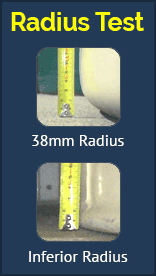 Some suppliers claim their tanks are compliant to Australian standards, but they don't pay to be independantly certified in order to pass on savings to you.
Independant certification costs a few thousand dollars,but when manufacturers sell 5000+ tanks per year, such likely amounts to less than $1 per tank in savings. So if a tank manufacturer is trying to save a buck, then it is likely they are also cutting corners elsewhere.
Serveral easy checks for Australian standards complaince that you can perform include:
Checking radius of tank base which should be 25mm+ for round tanks 1.8m wide, or 38mm+ for round tanks over 1.8m wide.
Installation guide must be supplied with every tank.
Tank serial number should be marked on the tank.
If you are still not sure? Ask your supplier for:
FEA reports of approved mould design for structural strength.
Ultrasonic thickness test results, which shouldn't be less than 4.5mm thick or as per FEA requirements.
Polyethylene material used is certified to AS4020 (drinking water) & AS2070 (food-grade).
Impact test results.
Q Tank is Independantly Certified for Each and Every Tank!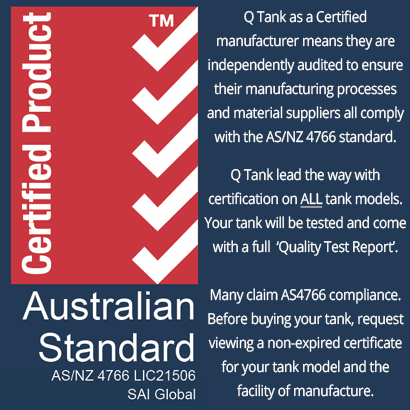 QTank are independently audited to ensure their manufacturing processes and material suppliers all comply with the Australian Standard for poly tanks (AS/NZS 4766). This ensures a very transparent and traceable quality process for each and every tank manufactured and sold.
QTank are the only manufacturer we know with "Five Ticks" StandardsMark Compliance on every rainwater tank model. This provides you with an assurance of quality on any Q Tank tank model you buy, that such has been independently certified to the Australian Standard (AS/NZS 4766).
Further to this, the Australian Standard requires only 1 in every 10 tanks be tested. QTank however exceed this by testing each and every tank and then provide a full written 'Quality Test Report' to the recipient. Q Tank definitely go above and beyond to ensure the tanks they make will last – more than any other brand we know.
Thankfully, with QTank each and every tank is tested and supplied with a written 'quality test report'.