While attempts are made to keep the delivery information on this page up-to-date according to each supplier, information contained on this page may change without notice.
Tank Delivery Information
Kingspan (Steel Tank) Delivery Information (open/close)
Kingspan steel tanks are delivered within 450 km from manufacturing facilities located in Yatala Queensland, Smithfield NSW and Epping Victoria.
Delivery date will be arranged with manufacturer and you will receive notification via email. If the delivery date provided is unsuitable, please advise ASAP and we'll attempt to reschedule it you.
On delivery day, Kingspan's Delivery Team will unload your tank from truck and position it on your base provided that: a) there is clear and reasonably flat access from the truck to the tank base b) your tank base is prepared and in good condition c) the weather is reasonably fair.
If your tank cannot be delivered due to access issues, re-delivery will be rescheduled and additional charges may apply.
While every attempt is made to delivery on the advised date and time, external factors may affect delivery. Therefore we recommend arranging installation works after your tanks is received.
Kingspan's Current ETAs*
QLD–Nth NSW: Slimline/Modlines/Square & Small Round Tank (under 5000L) 6-7 weeks; Large Round Tanks (over 5000L) 9 weeks
NSW/ACT: 7 weeks
VICTORIA: 6-7 weeks
* Estimates updated 1 December 2023. May vary based upon holidays, location, distance, tank size and shape. Dates are normally confirmed within a week after payment. Your tank order can be cancelled prior to production if unacceptable.
Last delivery for 2023 is 22 Dec. Factories will be closed for Christmas/New Year with new deliveries starting from 15 January 2024.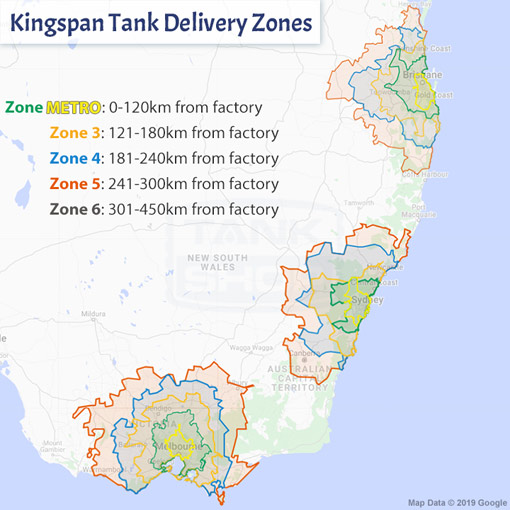 QTank (Poly Tank) Delivery Information (open/close)
Poly tanks are delivered throughout South-East Queensland and the northern tip of NSW from poly rotomoulding facility located in Brendale, Queensland.
Delivery date will be arranged with manufacturer and you will receive SMS and/or email notification. If unsuitable, please advise ASAP and we'll reschedule.
Prior to delivery the pathway to your prepared tank base must be clear if you wish the tank to be sited. If your tank needs carrying over neighbouring properties, please seek owner permission.
The delivery driver will call approximately 30 minutes prior to delivery. If you work, then we recommend organising the day off.
Someone should be present on day who can sign-off and assist with siting the tank as necessary: One additional able-bodied person for tanks 1,000 to 12,000L, two additional able-bodied people for larger sized tanks).
Deliveries are performed by a driver who will endeavour to assist you in siting your tank. Please understand that obstructions and lack of onsite assistance may hinder tank siting.
If no one is present, the driver will either unload the tank and leave in a location they consider to be safe and secure within your property.
QTank current ETAs*:
* Estimates only. Deliveries now fully booked for 2023. May vary based upon holidays, distance, tank size and shape. Please contact us if you need your tank sooner.
Stainless Steel Tank Delivery Information (open/close)
Stainless Steel Tanks are available for delivery throughout Victoria and slightly over the southern NSW border. Enter your postcode below to see if delivery is available to you.
NOTE:
If your property is outside of Zone 5,
contact us
for a custom delivery quote.
Stainless Steel Tanks Current ETA: Late February 2024 (estimate only)
---
Pumps & Accessory Delivery
Pumps, rainwater havesting accessories and gutter mesh are shipped Australia-wide.
Delivery Time & Stock
Attempts are made to communicate the accurate stock status of products, but please understand Tank Shop often relies upon stock with suppliers when fulfilling orders. Should there be a shortage on a product you have ordered, we will attempt to notify you as soon as we become aware of it.
That said, Tank Shop aims to have all orders for stocked pumps, rain harvesting accessories and mesh processed and dispatched within 1-2 business days after full payment is received.
Depending upon the product, your location, and delivery service utilised, delivery time after dispatch might be as little as 1-2 business days up to 10 working days. Delivery may take longer than advised due to circumstances outside of our control with freight providers.
Important: Timeframes are estimates only. We recommend arranging installation works products are received.
What If Your Order Doesn't Arrive?
If your order doesn't arrive within the estimated delivery time, please contact us. Rest assured that we will follow up with supplier and/or delivery service and keep you fully informed.
When ordering pumps and/or rainwater harvesting accessories, you have the option to provide Authority to Leave instructions during checkout. This should be a location on your property where the delivery service can safely leave your package should no one be present. Without this, notice of the attempted delivery will be given for packages requiring signing either in the form of a card being left, email, SMS and/or via an online tracking page.
While we are not in control of the delivery process, we will always do our best to facilitate the process of your order to you in a safe and timely manner. Please note it is also your responsibility to do everything reasonably possible to obtain your items including responding to delivery notices and/or collecting goods from a pickup point.
Should a parcel be returned back to us due to a failure on your part to receive or collect a package, you can choose to have us attempt a new delivery at cost, or issue a refund minus the original delivery cost and any supplier re-stocking fees.