When buying a water tank it is important to compare what tank fittings and accessories are included.
Tank manufacturers normally include as a minimum an outlet fitting and ball valve, a tank inlet strainer and overflow fitting. Other tank accessories may include a tap valve for hose watering, rain heads, first flush water diverters, strainer covers/light guards, mosquito-proof outlet screens and tank gauges to name a few.
The default tank inlet size, overflow and outlet fittings can vary in size from one manufacturer to the next. Typically, tank inlet sizes are 400mm, tank overflow pipes are 90mm size (upgradable to 100mm) and outlet valve fittings are 1″ (25mm). These sizes generally suit most residential and domestic purposes.
Accessories Included With Tank Shop's Tanks
QTank Tank Accessories [open/close]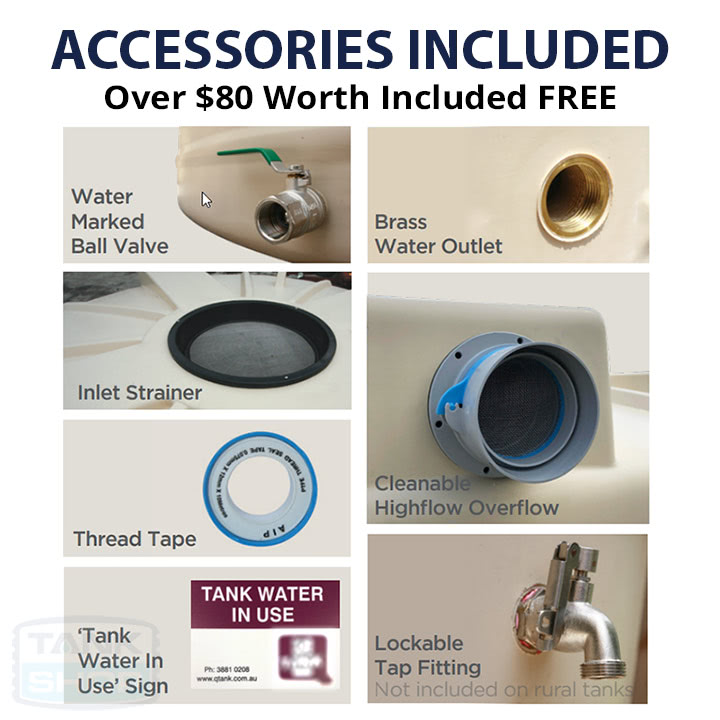 500mm Inlet Strainers*
Brass Water Outlets
90mm Highflow Overflow Kit
WaterMarked Ball Valves
Lockable Tap Brass (not included on "Rural" tanks)
"Tank Water in Use" sign
Thread Tape Premium
Note:
Two inlet strainers are included on 2500L and 5000L slimlines. 400mm inlet strainer sizes on 2500L and 3000L slimline tanks.
ThinTanks
come with their own inclusions.
Kingspan Tank Accessories [open/close]
Approximately $100 Worth of Accessories Included!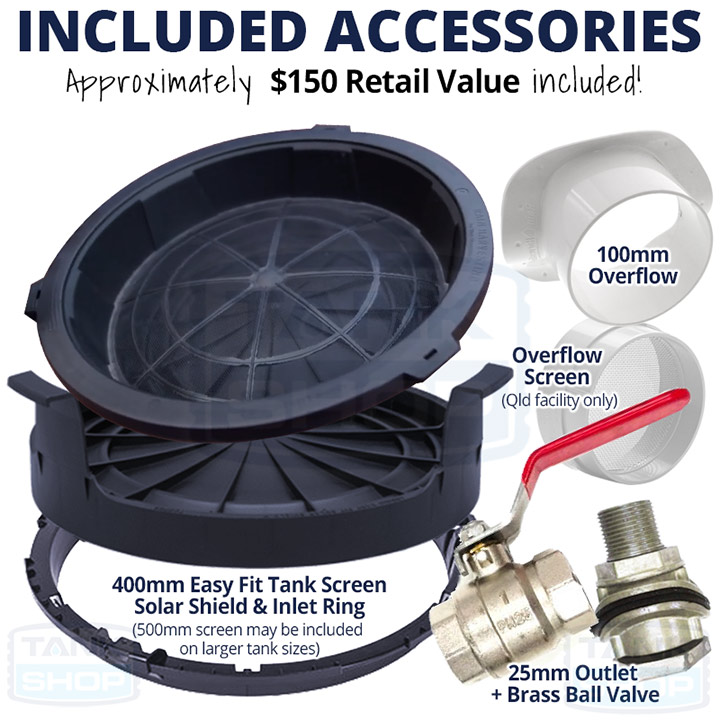 25mm Watermarked Ball Valve
25mm Brass Outlet
100mm Overflow
Overflow Screen (Qld only)
400mm Inlet Strainer
(500mm on large tanks)
UV Light Guard
Note: Kingspan's included accessories may change without notice.