Poly Water Tanks
Tank Shop supplies a range of poly water tanks in Round and Slimline shapes in varying capacities and dimensions. Select a round tank with a traditional corrugated look, or a slimline tank perfect for that space at the side of a house or along a fence line. All poly tanks are certified to Australian standards (AS/NZS 4766) and your tank will include a complete quality test report to verify it specifically complies.
Please Note: Poly tanks are made in a Brisbane facility and only deliverable to locations in South-East Queensland and northern NSW. Located in NSW, ACT or Victoria? We can supply Aquaplate Steel Tanks or Stainless Steel Tanks.
Choose from Round or Slimline Poly Tanks
---
Shop for Poly Tanks (ALL)
---
Poly Water Tank Benefits
Manufactured out of state-of-the-art rotary moulding facility in Brisbane, Queensland.
ALL tanks are independently certified to Australian Standards (AU/NZS 4766).
Your tank is supplied with a written 'Quality Test Report' guaranteeing AS/NZS 4766 compliance.
Tank is made from food-grade polyethylene that is 100% safe for drinking water (certified to AS4020 and AS2070).
Tank is constructed as one-piece with self-supporting lid (no centre pole).
Tank is delivered as one solid piece ensuring maximum structural integrity (no halves stuck together, tank top isn't cut off)
Accessories Included on Poly Tanks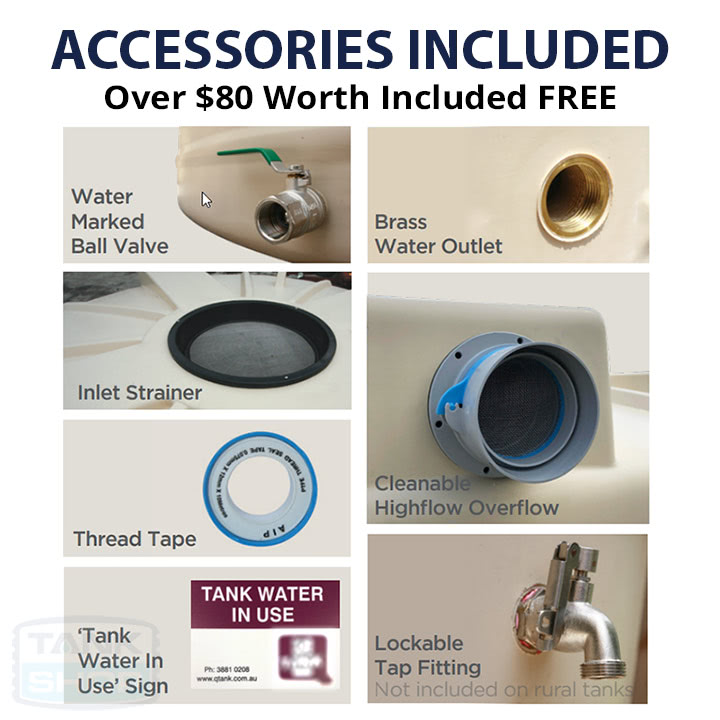 500mm Inlet Strainers*
Brass Water Outlets
90mm Highflow Overflow Kit
WaterMarked Ball Valves
Lockable Tap Brass (not included on "Rural" tanks)
"Tank Water in Use" sign
Thread Tape Premium
Note:
Two inlet strainers are included on 2500L and 5000L slimlines. 400mm inlet strainer sizes on 2500L and 3000L slimline tanks.
ThinTanks
come with their own inclusions.
Poly Water Tank Colours
This poly water tank comes in a range of COLORBOND® colours to match to your gutters, walls, shed or garden.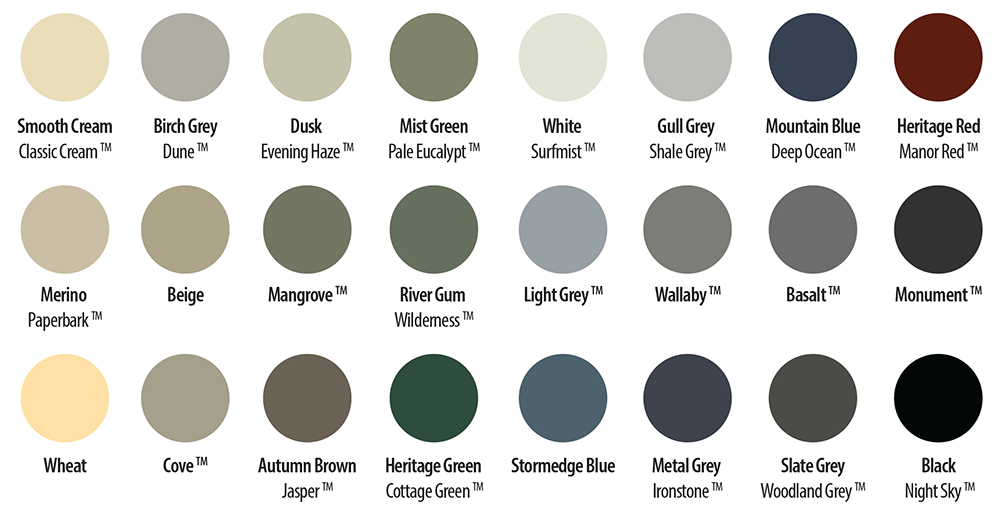 Please note: Actual tank colours might look different to those displayed here on your screen.