Introducing the Maelstrom with Shark Cage Filter (RHML02) – a single-screen stainless steel filter capable of filtering your rainwater of particles up to 180 microns at a speed of 10 litres per second (600 litres per minute) with 98% efficiency.
The Maelstrom with Shark Cage Filter builds on the original Maelstrom Filter design, with an unmatched water catchment efficacy. The Shark Cage Filter effortlessly filters massive amounts of water to give you the best quality water in your tank. It's even better than the original Maelstrom Filter – the super fine stainless steel mesh screen allows leaves and debris to be pushed out of the way which means less splashing and more water capture. No more external bag filter required.
Maelstrom with Shark Cage Filter was been developed and thoroughly tested to ensure the absolute maximum in rainwater capture and leaf rejection so you get more water to your rainwater tank.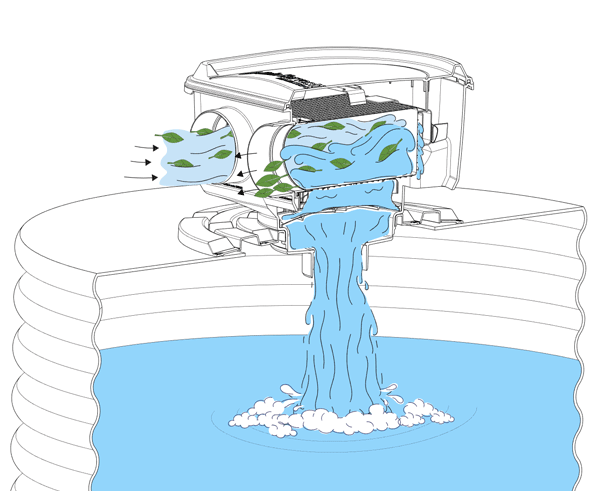 Features and Benefits
Cleaner water harvested – Maelstrom ultra-fine filter removes particles down to 180 microns – 5 times finer than standard rain heads, tank screens and pre-tank filters. This gives you cleaner, better quality water and lowers the volume of sediment putting pressure on your tank pumps and post-tank filters
Harvests high-flowing, fast water – Maelstrom eliminates the problem of water splashing off your tank inlet screen, especially at high flow rates. Its phenomenal water catchment efficiency of 600 litres per minute at 98% efficiency (which equates to 10 litres per second) gives you more water, faster, so you can take full advantage of every raindrop.
Efficient rainwater harvesting – Efficiently filtering multiple lines at a single point is a simple way to keep tanks filled to the max.
Reduces frequency and cost of tank cleaning by lowering common sediment build up through cleaner tank water.
Easy to maintain – reduces the hassle of regular maintaining as most leaf and debris build-up are flushed automatically to the waste pipe in the filtering process. Removable stainless steel filter screen easily rinsed by hose to so you can keep your system performing at its peak.
Multi-fit / Versatile rainwater filter – able to be installed in a variety of pre-tank locations (tank-top, in-tank, on wall or in a pit). For tank-top installations, the Maelstrom's Mounting Base Plate fits 300mm, 400mm and 500mm tank openings.
Prevents algae growth – when installed over your tank inlet hole, the Maelstrom blocks out sunlight which causes algae growth.
How the Maelstrom with Shark Cage Filter Works
The Maelstrom with Shark Cage Filter offers huge water catchment with incredibly fine filtration.
Water enters the system through an inlet, before filtering through the super fine Shark Cage Filter.
The unique design of the filter knocks the energy out of the water, allowing it to then fall into your tank.
Leaves and debris are pushed to the side, and in many instances will wash out the dirty water outlet on the top, providing a level of self-cleaning.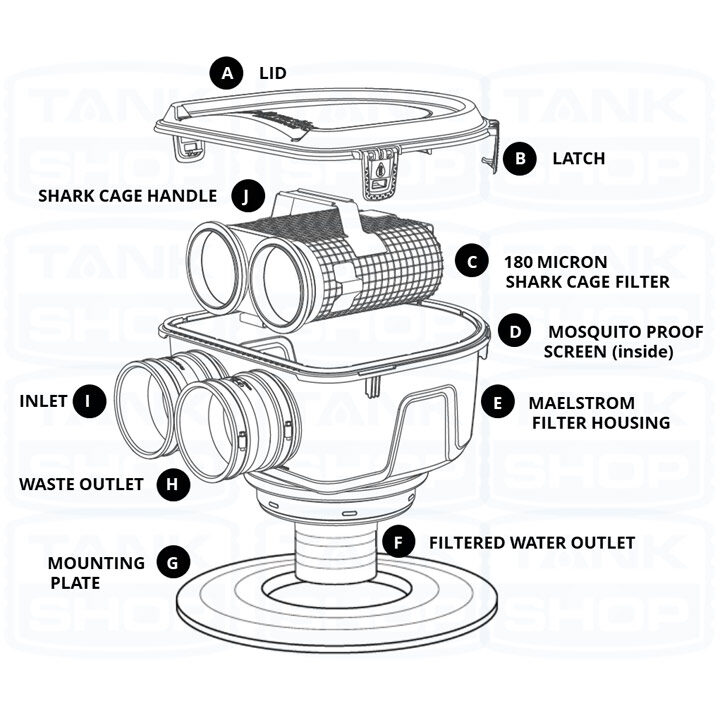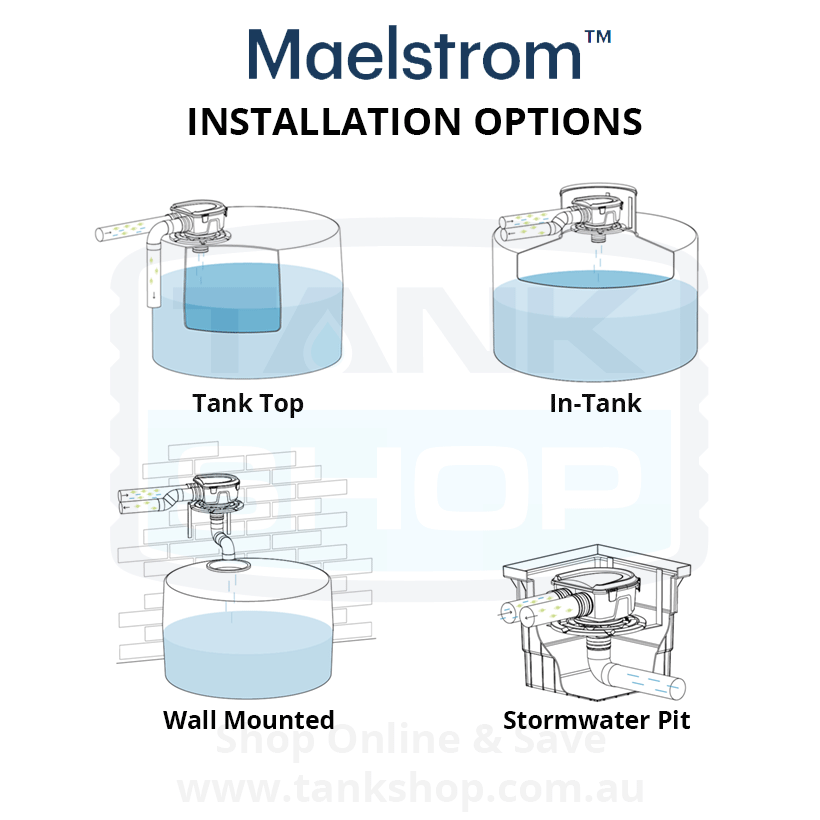 Maelstrom Filter Installation Options
Maelstrom is easy to install and low maintenance.
It can be installed on new or old rainwater systems – either on top of the rainwater tank, in-tank, wall mounted or in an underground stormwater pit.
Maelstrom is versatile and suitable for all kinds of properties:
residential
commercial
remote areas and farms
schools/universities
sustainable homes/green buildings
transport hubs.
How to Clean the Maelstrom with Shark Cage Filter
If your Maelstrom Shark Cage Filter is free from sediment and debris, you will ensure that your rain harvesting system will continue to perform at its very best. Watch this video to learn how to clean your Maelstrom Shark Cage Filter quickly and easily so that you can continue to enjoy its superb rainwater filtration.
Maelstrom with Shark Cage Filter Specifications
Dimensions
506mm wide x 533mm depth x 392mm high (including bottom outlet). Unit itself sits approx. 300mm above the tank inlet (see specification diagram below)
Shark Cage Filter
0.18mm (180 m) Aperture, SS316
Mosquito Proof Screen
0.955mm (0.04″) Aperture, SS316
Inlet & Outlet Pipe Size
DN100 (110mm OD) / 4" OD
(can use a tapered reducer to connect to 90mm pipe)
Coupling
Flexible, EPDM
Body & Base Plate
ABS, Polypropylene
Base Plate
Fits 500mm tank opening, cut to fit 400mm or 300mm tank opening

Fast Delivery Australia-Wide!
Postage and handling $22 anywhere in Australia
Orders are generally dispatched within 24-48 hours
Delivery time varies based on your distance from Brisbane. Average transit times based on recent orders: Brisbane & Sydney - 1 day; Melbourne - 3 days; Adelaide - 4 days; Perth/Darwin, Rural and remote areas - 5-10 days
NOTE: You may provide "Authority to Leave" your order in a safe location if no one is home to receive it. The delivery service may not be able to deliver to some rural areas, so may leave your parcel at a local depot or LPO for collection. Unfortunately we cannot address deliveries to PO Boxes or Parcel Collect locations.