Blue Mountain Co's 100mmm Sliding Gate Valve is a versatile device that allows water flow to be easily shut off in 100mm pipes. Available with a Plastic Paddle (HW0921), Stainless Steel Paddle (HW0923) which is more suitable in applications where active water flows need closing off, or Pressure Pipe w/ Stainless Steel Paddle (HW0924) for a stronger attachment.
100mm Sliding Gate Valve Features
Ergonomically designed handle, allowing for easy opening and closing
Made from UV stabilised uPVC with stainless steel hardware
Can be used as a wet system drain valve on rain harvesting systems
Suitable for low pressure applications (sealing pressure rated to 210kPa)
100mm female fit
How do Sliding Gate Valves Work?
What is the Difference Between Models?
Plastic Paddle version (HW0921) is suitable for drainage applications such as emptying a charged rainwater harvesting system.
Stainless Steel Paddle versions (HW0923 & HW0924) are ideal for applications where an active water flow needs to be shut-off or diverted. They have the strength to close off during mid flow (max closing pressure 60kPa). The Pressure Pipe version (HW0924) is slightly wider for a stronger fit to pressure pipe.
Model
100mm Sliding Gate Valve
HW0921
100mm Sliding Gate Valve
HW0923
100mm Sliding Gate Valve Pressure Pipe
HW0924
Paddle Type
Plastic Paddle
Stainless Steel Paddle
Stainless Steel Paddle
Application *
DWV & Stormwater Pipe
DWV & Stormwater Pipe
Pressure Pipe
Max Pressure (kPA)
210
210
210
Mid-Flow Closing Pressure (kPA)
5
60
60
*NOTE: DWB & Pressure Pipes have different outer diameters, so please you chose the correct size Sliding Gate Valve for your installation.
How to Choose Your Sliding Gate Valve
100mm Sliding Gate Valve Dimensions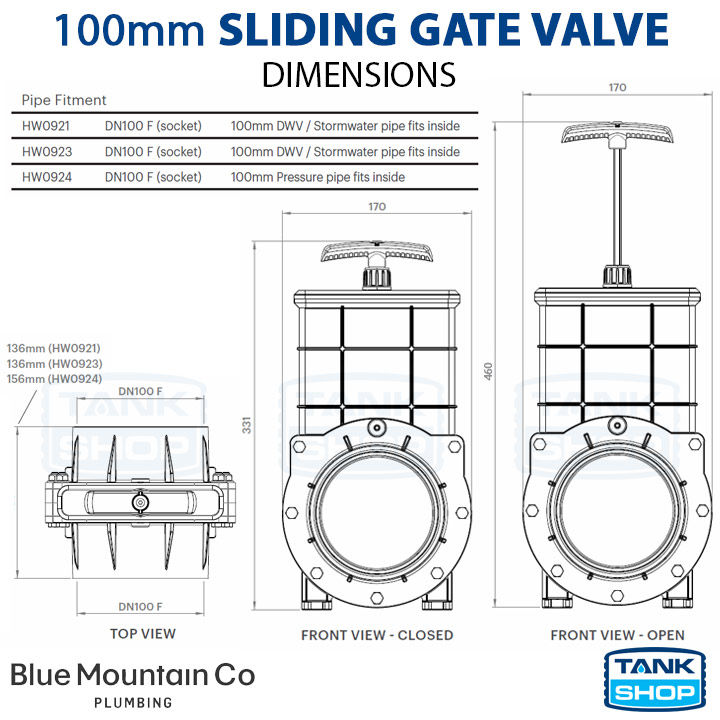 Looking for something smaller? See the 90mm Sliding Gate Valve also available in plastic or stainless steel.