The TankVac® with its patented Flow Generator is a retro-fittable tank cleaning solution. It automatically purges sediment and organic matter that settle at the bottom of your tank keeping your harvested rainwater more clear and fresh.
Why Do You Need TankVac?
Even with filtering devices, sediment and organic matter accumulates over time in your tank creating a sticky sludge. Government health departments advise cleaning tanks every 2–3 years as part of proper tank maintenance, which is expensive to do. TankVac will save you time and money while also continually providing cleaner high-quality water.
How Does TankVac Work?
TankVac creates an automatic vacuum whenever your tank overflows. This vacuum siphons the waste water from the base of the water tank, discharging it in such a powerful flow that the harmful sediment and bacterial colonies are extracted.
TankVac Auto-Cleaning Process
Step 1: TankVac automatically starts as soon as the water level reaches the top of the tank.
TankVac uses a patented Flow Generator which removes air from the pipe carrying the wastewater.
Step 2: TankVac begins to suck waste from the base of the tank.
By automatically creating a vacuum, the siphon-effect begins. This powerful vacuum increases water flow three-fold, drawing out sludge like a firehose-type jet at a rate of up to 9 litres per second. The base pipe drawing out the wastewater has been designed to create an even vacuum action across the entire base of the tank. The expelled wastewater carries with it the poorest quality water along with the harmful sludge which stagnates on the tank floor.
Step 3: Suction stops as soon as the water level drops to the pre-set drilled 'level control' holes.
The siphoning action ceases as soon as the water level drops to the air holes placed 25mm below the 'full' water level.
TankVac Box Contents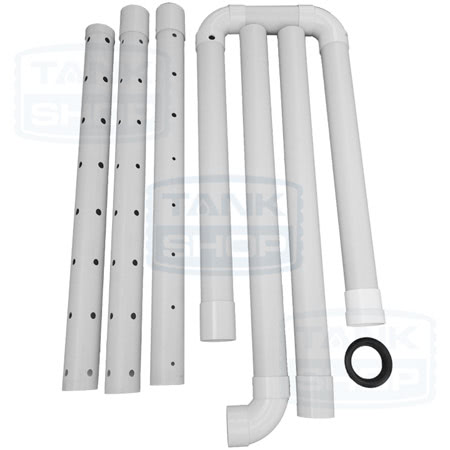 1x Overflow Elbow and Pipe w/ Flow Generator (90mm adaptor)
1x Inner Upright Pipe w/ Elbow containing pre-drilled hole
2x Upright Pipes (approx. 1m long)
3x Base Pipes w/ pre-drilled holes (approx. 1m long)
1x End Cap (base pipe)
1x 200mm Horizontal Overflow Pipe
1x 90 Degree Elbow Pipe
4x Pipe Joiners
1x Rubber Seal
DIY Installation
TankVac can be easily fitted by any DIY handyman. It can be retro-fitted to your full or empty existing water tank or installed with your new tank. This unique system has NO movable parts and operates automatically WITHOUT the need for power.