Rainwater Tank Sale
Lower than Manufacturer Prices
Thank you for letting us know.
At checkout please enter code 'any-tnk-pmp' or 'tnk-pmp-pkg' for any tank and pump order or package.
Buy Your Tank & Save
Add a Pump and Save More
+ Receive $30 Bunnings eGift Card

View Full Tank Range

❝ Ordering online was easy and I couldn't beat the price provided. From the moment I placed my order, Scott at Tank Shop ensured all went smoothly. Would buy through Tank Shop again and highly recommend to others!❞ ★★★★★
Victoria KorotnickiMt Gravatt, Qld
❝ Tank Shop provided prompt, friendly, timely, comprehensive service providing good value for money.❞ ★★★★★
Ian RobinsonDunwich, Qld
I cannot recommend the service from this company highly enough. The whole team are wonderful to deal with and I could not possibly be more impressed.
(Review of Q Tank, manufacturer of tanks sold)
Jeaniene WakefieldCanungra, Qld
High-Quality Q Tank Brand Tanks at Sale Prices
Q Tank's range of tanks are built strong, made from food-safe and UV-resistant poly, and far exceed Australian standards!
Slimline Tanks
Slimline tanks are suitable are great for meeting the minimum 5,000L requirement tank size for new modern homes.
Round Tanks
Round tanks are available in sizes from 1,500L to 30,000L and suitable for domestic and rural properties.
Benefits You Receive with Tank Shop
Tank Shop is an Australian family-run business dedicated to selling high-quality water tanks from brands who are committed excellence.
Why You Should Choose Tank Shop
Aussie Online Store – we have no store fronts and fewer overheads. Cost savings are directly channelled to our customers.
Customer Satisfaction – every business says it, but your satisfaction IS our primary concern. As a family-run business we will do all in our power to ensure your experience with the manufacturer is quick, easy and smooth from order to delivery and beyond.
Direct from Factory – all tanks sold haven't been sitting on the floor collecting dust and scratches but made brand new and delivered direct from manufacturing facility.
Family Owned Business – you're dealing with a family owned and operated business. Literally, you are dealing with an Australian family who value each customer as persons.
Lower Prices – savings are passed onto you through our lower wholesale prices received.
Better Deals at Lower Prices
We are able to provide better deals, often with prices significantly lower than retail by:
focusing on the online market – not having a shopfront reduces our overheads allows savings to be directly passed onto you.
developing direct relationships with manufacturers – means we obtain lower prices than customers who would make a once-off purchase.
continually seeking to partner with new businesses who wish to sell more product – enables us to provide higher quality products and better value packages.
Find a better deal elsewhere? Check out our Lowest Price Guarantee.
Australian Standards Certification (AS/NZS 4766)
The tank model on sale above has been independantly certified by SAI Global for compliance to AS/NZS 4766 (view cerficiate).
Certification to the Australian standard AS/NZS 4766 provides you with assurance that the tank you are buying should be safe, reliable and will last many years to come. Australian standards are not legally enforced, but recommendations put together by Standards Australia. Compliance with Australian standards are voluntary unless the product is regulated by Government and specified in law.
Many manufacturers claim to comply with the Australian standard, however unless independently certified by an approved body such claims may be false or misleading. Before ordering your water tank it is important to request the manufacturer's certificate of compliance. It should contain:
name of the certifying organisation
all certified tank model/s specifically named
the business name and location of their facility certified
date of issue and when the certification expires.
Buyer Beware:
Some manufacturers skimp on cost and only have one or two tank models certified – ensure your particular tank model is certified.
Some manufacturers claim certification based upon one operating location – ensure the facility making your tank is certified.
Some manufacturers claim certification when it is no longer current – ensure the expiration date on their certificate hasn't expired.
Verifying a certificate of compliance to the Australian Standard AS/NZS 4766 can mean the difference between a trouble-free and long-lasting tank, or it failing and starting to leak water in a couple of years.
Why the Q Tank Brand of Tanks?
Sometimes we're asked, "What makes Q Tank tanks better than others?" There aren't many manufacturer who go to extraordinary lengths with quality control and complying to Australian standards for each and every tank. In terms of service, we have found them trustworthy, reliable and committed to customer satisfaction.
Tank Benefits
Manufactured locally in Brisbane out of Q Tank's state-of-the-art rotary moulding facility.
Made from food-grade poly certified to AS4020 and AS2070 – 100% safe for drinking!
Made from UV-stablised polyethylene – longer life in Australia's sunny weather!
Constructed as one-piece with self-supporting lid – no centre pole wrecking your tank.
Delivered as one solid piece – tank top isn't cut ensuring maximum structural integrity.
ALL tanks are independently certified to Australian Standards (AU/NZ 4766).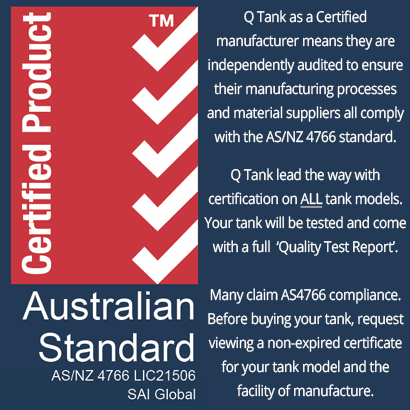 Every Tank is Quality Tested & Results Provided
Australian standards only requires 1 in every 10 tanks produced to pass strict tests. Q Tank test EVERY tank and you will receive a full written "Quality Test Report" when it is delivered.
SAI Global's 'Five Ticks' of Product Certification (one of the most stringent to pass).
Ultrasonic Thickness Test in 20 locations ensuring roof, wall and base is 4.5mm+ thick!
Impact Testing on cut outs to ensure polymer chains have correctly bonded and very strong!
Visual Inspection by experienced staff to ensure tank exterior and interior is made correctly.
Full written 'Quality Test Report' provided with all the test results – guarantees your tank is made to Australian standards!
Your very own tank will be fully tested before leaving facility ensuring you receive a top-quality product. It won't just have a 1 in 10 chance of being fully tested for standards compliance – you will receive an actual copy of the test results!
10 Year "Water Tight" Warranty
Should your water tank fail within 10 years after its date of purchase, then provided it has been used as intended and installed according to its instructions, then Q Tank promise to repair or replace your tank at no cost to you. No hidden catches
Buyer Beware: Warranties provide peace-of-mind that you will be covered should your tank fail. Many people often base their decision upon a warranty period, and some may bank upon such to cloud an inferior product. Some things you should consider when factoring in tank warranties:
Pro-rata warranties basically mean you pay for the time your tank has been used until it failed. They aren't necessarily bad, so long as you know upfront that you are getting one. Pro-rata warranties tend to be offered for longer periods, and you are normally covered for repair or replacement at the manufacturer's discretion. Should you be informed a new tank is required, then you will be required to pay for a new tank minus the remaining value of your old tank. This in effect locks you into spending more with that manufacturer unless you forfeit your warranty.
Warranties that make purchaser responsible for costs arising from a claim. This might include coming out to inspect, emptying your tank, removal and disposal, transportation and re-plumbing. Some might even stipulate you are responsible for returning your tank. Basically, these clauses are an attempt make it feel too costly and a hassle to claim on your warranty.
Tank manufacturing companies who change owners every few years, or haven't had owners as long as their offered warranty. New owners often void your warranty, and some might do this to avoid honouring warranties.
Fly-by tank brands who start up to manufacture tanks when the industry is booming, but then vanish leaving noone to honour your warranty once your tank fails. This was more common some years ago when rebates were on offer and dam water levels were low. Nonetheless, it could still happen so it is good to a manufacturing brand who has been in the industry for 10 years or so.
Thankfully, Q Tank offer a full repair or replacement warranty. If your tank leaks within 10 years, then they will come out and either repair or replace it at no cost to you. The business has also been in the same hands longer than their warranty period, so you know this is a warranty you can trust!
Customer Testimonials
Ordering online was easy and I couldn't beat the price provided. From the moment I placed my order, Scott at Tank Shop ensured all went smoothly. Would buy through Tank Shop again and highly recommend to others!
Victoria Korotnicki
Mt Gravatt, Qld
Tank Shop provided prompt, friendly, timely, comprehensive service providing good value for money. Five Stars
Ian Robinson
Dunwich, Qld
I cannot recommend the service from this company highly enough. The whole team are wonderful to deal with and I could not possibly be more impressed. (Review of Q Tank Supplier)
Jeaniene Wakefield
Canungra, Qld