Water tanks sold by Tank Shop include warranties provided by the manufacturer which differ based upon who made your tank.
Tank Warranties
It is important to understand the details of warranties different tank manufacturers often provide.
Longer warranties are often pro-rata – many don't realise the warranty supplied with their tank is a pro-rata warranty. This means if you have your tank for 5 years before failure, then you will be covered normally via repair or replacement up to the value of the warranty length minus those five years. The option is normally said to be at the descretion of the manufactuer, so should you be told your tank needs replacing, then you are locked into going with that same manufacturer again and paying the difference for a new tank, plus possibly delivery and re-plumbing costs. You could of course forfeit your warranty.
Warranties are often non-transferable – how long will you be staying at your property? If your warranty is for 25 years, then if you move in 5 years that is where your warranty will likely end.
Warranties often make purchaser responsible for costs arising from a claim including:

cost of removing and storing of contents.
transportation costs that apply to picking up your tank for repair, or a replacement tank.
disposal of the tank that needed replacing.
re-plumbing the tank back in.

Brand names changing business owners nullify warranties. Many well-known tank brands have been around decades, but the business entities behind the names have changed voiding any previous warranties. Understand your warranty is legally with the original business you bought from, meaning any new business owner can reject your warranty claim.
Australian Consumer Law
We have known many tank manufacturers to deny a warranty claims. Understand however they need to comply with consumer laws in Australia. Under the Australian Consumer Law (ACL), there are automatic consumer guarantees which apply to products regardless of any other warranties. If a tank you buy fails to meet a consumer guarantee, you have the right to ask for a repair, replacement or refund under the Australian Consumer Law. The remedy you're entitled to will depend on whether the issue is major or minor.
It is important to understand that consumer guarantees do not apply if you got what you asked for but simply changed your mind, found it cheaper somewhere else, decided you did not like the purchase or had no use for it. However, if you have a minor problem with a product or service, businesses can choose to give you a free repair instead of a replacement or refund. When you have a major problem with a product, you have the right to ask for your choice of a replacement or refund.
More details about your rights under the ACL and what is considered a minor or major problem can be found on ACL's Repair, replace, refund web page.
Q Tank Warranty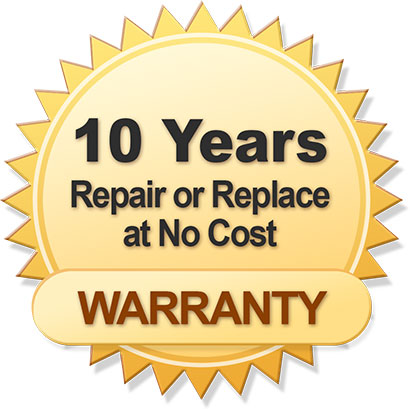 It is always better to buy a tank that lasts so you don't have the hassle of needing to claim on your warranty. Q Tank manufacture water tanks to precise standards, quality test each tank and include a 'Quality Test Report' upon delivery. It is unlikely your tank will fail, however should it, they proudly back their tanks with a 10 "water tight" warranty.
To be specific, should your water tank fail within 10 years after its date of purchase, then it will be repaired or replaced at no cost to you. The two main conditions are that:
your tank must be installed according to the provided installation instructions, and
your tank must be used for its intended purpose (e.g., storing rainwater).